Disclosure: As an Amazon Associate, we at bestbuysJapan earn from qualifying purchases. We may receive additional revenues, at no extra cost to you, from other links you click to products or ads. Amazonのアソシエイトとして、bestbuysJapanは適格販売により収入を得ています。
You can have your pizza and eat it! And, it need not come from Domino's, Pizza-La, or even Chicago. Sticking around for a couple of oven toaster slices at a time or microwaved cardboard, however, isn't going to cut it. Fortunately, Japan loves pizza just as any other place, so there's plenty of choice for innovative pizza making oven appliances. The electric pizza maker is not unique to Japan, but read more to discover pizza kilns for your gas konro stove, or even portable pizza ovens for the outdoors.
Best Electric Oven Pizza Makers in Japan
For the most part, an electric pizza maker has a hidden base element and an open element in the raised oval lid which acts as a grill. If the appliance has an additional dish plate, you can do more with it, but you can bake anything in the oven space you wish.
Fukai FPM-160 Sakura Stone Kiln Pizza Maker
This pizza maker is well received and reviewed in general. Although it's versatile beyond pizza, it is quite a heavy (3.4 kg) appliance. There are only three heat levels and the timer is 15 minutes. You can reset the timer, but you should avoid doing so too many times. Some people use it for baking in shallow trays.
30 cm pizza
Ceramic pizza plate
Pizza paddle
High temperature 410℃
3 temperature levels
15 minute timer
Viewing window
1 200 W
There's also a recipe book (日本語) with suggestions for alternatives like roast beef or chicken, however, this model does not have a deep dish plate.
The product homepage has a few tips and guidelines worth knowing about:
For fluffy dough or pan types pizza, don't preheat the plate. Use the paddle to occasionally turn the pizza so it doesn't stick to the plate.
For crispy crusts preheat for 10 min. Turn in the same way with the paddle until the dough is no longer wet to avoid sticking.
For handmade dough, make sure to liberally apply flour on the base because of water content.
When preheated, the dough can burn within 2 to 3 minutes so move it around before closing the lid.
Keep ingredients about 2 cm from the edges.
There's no need for aluminum foil as the ceramic plate absorbs water and oil.
Hand wipe the ceramic plate with a cloth and don't wash it in water.
Vitantonio Gourmet Pizza Oven VGO-55
A similar device to the Fukai is the Vitantonio Gourmet Oven. It's a higher spec product and comes with a flat ceramic plate in addition to a deep pan dish which can be used for meats, fish, gyoza, paella, and a lot more.
30 cm pizza
24 cm dish plate
Pizza paddle and cutter
1 200 W
4.8 kg
Max temp. 400℃
Timer 15 min
Recipe book (日本語)
The additional deep plate adds great value for the price. It also helps to preserve the ceramic pizza plate which you can just use for pizza. There are 4 key temperature settings with additional temperature zones in between. Tips for cooking with the ceramic pizza plate are much the same as those above for the Fukai pizza kiln.
Best Pizza Kilns in Japan
The traditional pizza kiln in the inspiration for these types of pizza makers. They usually go on top of a gas stove [ ガースーコンロ ], but some can go on a barbeque grate. They're a handy alternative for making pizza in Japan other than a convection oven toaster.
Village Blacksmith Pizza Kiln
Village Blacksmith or Mura-no-Kajiya [村の鍛冶屋] comes out of Nagasaki. They make quite a range of kitchenware, outdoor goods, and other handy products. This all ceramic contraption is quite versatile and you can be used on a gas cooktop, an outdoor fire, or even in the microwave.
20 cm pizza
1 870 g
Base pot diameter: 26 x 3.5 cm
Inside stainless steel net stand: 22 x 3 cm
Total dimensions: 27×12.5 cm
Recipe booklet incl. for smoked meats
Made in Japan
These kilns are made from new ceramics which emit high intensity far-infrared radiation, and can withstand temperatures of up to 700℃ . It can be used on portable cassette gas burner and it takes about 20 min to reach 200℃. For any type of gas burner with a temperature sensor, you have to purchase a separate base stand. This generally means any gas appliance manufactured after November, 2018.
Hakuho Ceramic Pizzeria
The Hakuho Ceramic Pizzaria is also made in Japan. It's somewhat heavy because it's made from earthenware. This small company has a few other products such as an earthenware Korean bibimba pot, nabe pot, and bread plate.
These kinds of ceramic pizza ovens are not for everyone though. There are a few cautionary guidelines for how and where you can use them:
Do not use on a gas stove top with SI heat sensors.
Do not use on a portable gas cassette burner due to high residual heat.
Do not use on a built-in gas cooktop with a glass top.
Do not use on any heat sensitive surface or where heat will discolor your table.
This pizzeria comes in 4 parts. There's the kiln, an earthenware plate holder that goes inside, the round pizza stone which goes on top, and the pizza paddle. There is also a recipe book and manual, but that's in Japanese. You have to preheat for 15 to 20 minutes on high heat. You should also rotate the dough around. Pizza's take between 3 to 6 minutes to cook, and you can also cook frozen ones too.
Pizzacraft PC0601 Pizzeria
If you're looking for a more international name in Americana pizza, you may want to try the Pizzacraft Pronto – but it's only for use on a gas stove top.
These mod-con kilns require a bit of effort to set up. Basically, you have to secure it to your stove top burner – preferably over the 15 000 BTU burner. If you have a fancy kitchen setup by Japanese standards, this might be your thing. The online PDF manual in English has more information. You can also check out there Facebook page for other pizza related fair.
Best Camping Ovens for Pizza in Japan
If you're into camping or outdoor barbecuing, there are a few interesting portable ovens, and some made in Japan. Two are designed as a pizza maker, and two are more versatile box type ovens. Sometimes these types of ovens can also be used on a gas stove top.
Onoe Barbeque Pizza Oven
Onoe Manufacturing are specialists in outdoor and barbecue equipment. Their handy outdoor pizza oven is only 3 kg and pops onto a barbecue grate. It doesn't fold up, so what you see is what you get.
3 kg
Stainless steal
Chromium handles
Built-in thermometer
Pizza paddle
Inside WDH: 25 x 25 x 5 cm
Total WDH: 37.5 x 29 x 13 cm
Pizza stone: 25 x 28.5 cm
You have to place the unit on a grate and should not put it directly on hot coals. You can also put a shallow baking dish into the oven for even more gourmet camping treats. Spare parts are easily available, and there are also additional trestles you can buy to secure the oven to your barbeque grill.
Snow Peak CS-390 Field and Pizza Oven
Snow Peak is one of the premium names in Japanese outdoor products. It's primarily a pizza oven or small baking oven to be used on a camp fire. It's a little more pricey due to its use of ceramic materials. The product pictured doesn't include the lower fire pit.
Main body: 46 x 47 x 15 cm
Ceramic pizza board: 38 x 2 cm
Stainless steel paddle
Stainless steel rack
Securing strap
Carry bag
Total weight: 6.6 kg
People don't have qualms about the quality and effectiveness of this oven. It's comparatively rather expensive, but cheaper options may not be as robust for the long term.
Tips for a Cheap Portable Pizza Oven in Japan
A good place to source most basics kinds of outdoor goods is a common home improvement, hardware, or garden store. These often also have online shopping options:
The DCM Brand has an outdoor barbecue pizza oven which comes with a square ceramic plate a pizza paddler. It can be attached to a fire pit stand (as pictured but not included) and measures WDH: 37.5 x 29 x 10 cm.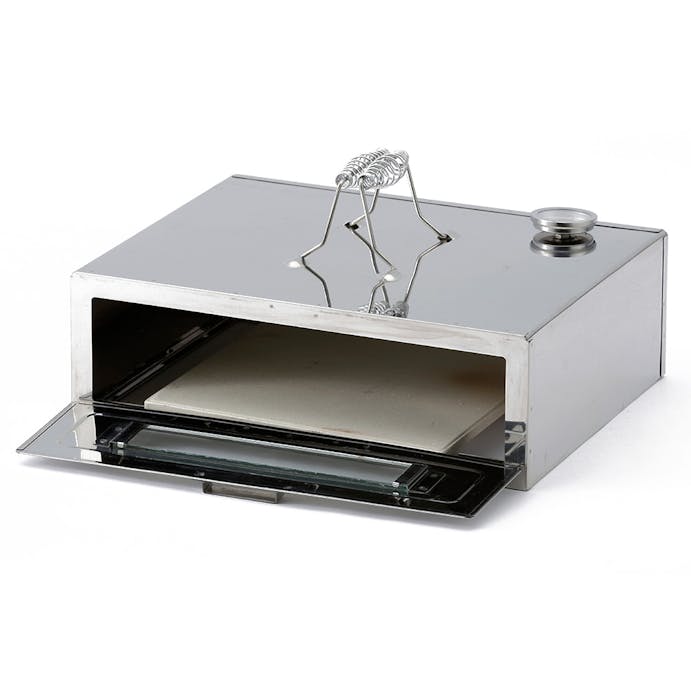 The Cainz Homestore has this handy pizza oven. It can also attached to a gas stove and is WDH: 37.5 × 30 × 13 cm. It also comes with a ceramic pizza stone, a pizza paddle, and has an built-in thermometer.
Winnerwell Fast Fold Outdoor Oven
Winnerwell is a global brand that specializes in portable and outdoor stoves or ovens. This Fast Fold Outdoor Oven was designed in Japan. It's key features is a viewing window and it can do double rack baking.
304 stainless steel
Full WDH: 25 x 27 x 33 cm
Folded WDH: 33 x 27 x 7.5 cm
2 rack baking
Built-in thermometer
Viewing window
2.9 kg
On the positive side, this design uses integrated clasps for quick assembly, so there are no parts to lose or misplace. Some quirks about this oven is that it may not get to temperatures beyond 200℃. Also, the double rack system means that the bottom cooks too much and the top too little, whereas one rack in the middle would be a better proposition. A solution to this is rack rotation during baking.
Coleman Camp Oven
Coleman, of course, is one of the best known brands for outdoor living. Their foldable camp oven is designed work with a C-class gas burner.
Working WDH: 30.5 x 30.5 x 30 cm
Foldable WDH: 30.5 x 30.5 x 8.5 cm
Built-in thermometer
2-racks
3.5 kg
Carry case
The Coleman camp oven and smoker is similar to the Winnerwell. However, the construction is not as robust, there is no viewing window, and the racking system is different. There are two racks, but three rack positions including a middle rack. This oven cannot be used with LP gas and is not really meant for an outdoor fire.